Get the Best Stay in Wayanad
VMJ Wild Stay in Wayanad is surrounded by jungle on all sides and we have daily wildlife sightings right inside the Hut and cottage itself. It is an ideal escape for wildlife and nature lovers, you can see animals from your room's balcony as they graze in our meadows or come for a drink in the watering-hole near to our cottage. VMJ Wild Stay is a holiday experience located in the rainforests of the Western Ghats in Wayanad, North Kerala. One of eight hot-spots of biodiversity in the world.
BOOK NOW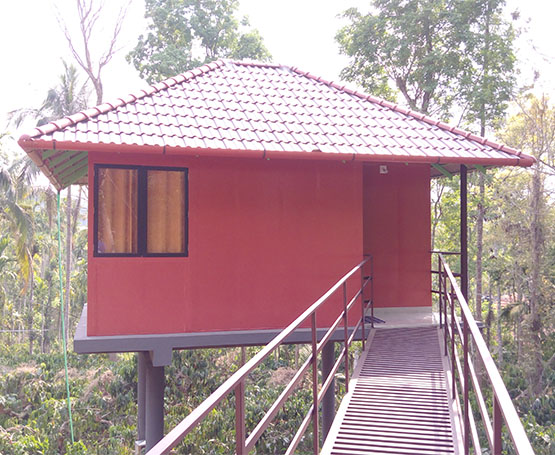 VMJ WILD STAY
COTTAGE & HUT
Welcome to VMJ Wild Stay located within the Muthanga wildlife sanctuary near Mundakolly . VMJ Wild Stay in Wayanad is surrounded by the thrill and enigmatic beauty of nature, its flora and fauna coming together with the pristine wonder of a chirping forest. Being a home to bears, hyenas, Elephants, Gar, Birds and tigers, the sanctuary is a fine blend of nature and wildlife environment.
Read More
VMJ WILD STAY LUXURY JUNGLE COTTAGE & HUT
An extraordinary destination in Wayanad offering memorable getaway packages to the global tourist.

Our Wild stay is one of the best destination in the wild of wayanad, We offer you a unique opportunity to experience the wilderness in complete safety and comfort of your room. We invite only wildlife and nature lovers, we discourage any sort of noise which may disturb nearby wildlife and ours is strictly an alcohol free zone. VMJ Wild Life Wayanad is owned and managed by nature and wildlife lovers, if you share the same passion then this is the place to stay in Wayanad, Mundakolly.
Give us a Call for your questions
+91-7598080555
manujose545@gmail.com
Safe Stay in Wayanad
With your Family, Friends & loved Ones...!
We offer package tours to wayanad!
We have more packages tours in Wayanad with VMJ Wild Stay cottage and hut. More Activities like trucking, Sightseeing, Camp fire, Cooking Facilities, Safari, Boating etc. with VMJ Wild Saty In Wayanad.